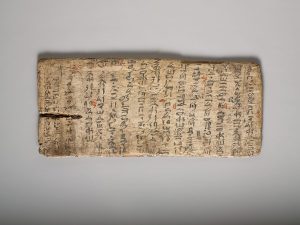 Writing board from the Middle Kingdom (ca. 1981–1802 B.C.) at the Metropolitan Museum of Art in New York
AMNE is happy to congratulate Professor of Egyptology and Near Eastern Studies Thomas Schneider  on his latest book, Language Contact in Ancient Egypt, (2023 LIT Verlag).
The book's description is as follows:
"This book provides the first comprehensive introduction to the field of language contact and multilingualism in ancient Egypt before the Greco-Roman period (4th millennium BCE–4th c. BCE). It gives a survey of the historical evidence of linguistic interference of Egyptian with languages in Africa, the Near East and the Mediterranean, discusses the different attested phenomena of language contact and offers a case study of foreign language communities in ancient Egypt. Detailed indexes makes this book a rich source of linguistic information for general linguistics and neighboring disciplines."
Purchase the book and learn more at LIT Verlag.
Since 2021, Professor Schneider has been the Executive Director of the Pacific Alliance of Liberal Arts Colleges (PALAC).