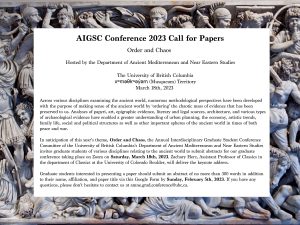 The Annual Interdisciplinary Graduate Student Conference Committee at the University of British Columbia is issuing a call for papers for this year's conference.
The Annual Interdisciplinary Graduate Student Conference Committee of UBC's Department of Ancient Mediterranean and Near Eastern Studies invites graduate students of various disciplines relating to the ancient world to submit abstracts for our graduate conference taking place on Zoom on Saturday, March 18th, 2023. This year's theme is Order and Chaos. Zachary Herz, Assistant Professor of Classics in the department of Classics at the University of Colorado Boulder, will deliver the keynote address.
Across various disciplines examining the ancient world, numerous methodological perspectives have been developed with the purpose of making sense of the ancient world by 'ordering' the chaotic mass of evidence that has been preserved to us. Analyses of papyri, art, epigraphic evidence, literary and legal sources, architecture, and various types of archaeological evidence have enabled a greater understanding of urban planning, the economy, artistic trends, family life, social and political structures as well as other important spheres of the ancient world in times of both peace and war.
Graduate students interested in presenting a paper should submit an abstract of no more than 300 words in addition to their name, affiliation, and paper title via this Google Form by Sunday, February 5th, 2023. Anyone interested in attending the event can register at https://ubcamnegradconference.hcommons.org
If you have any questions, please don't hesitate to contact us at amne.grad.conference@ubc.ca.